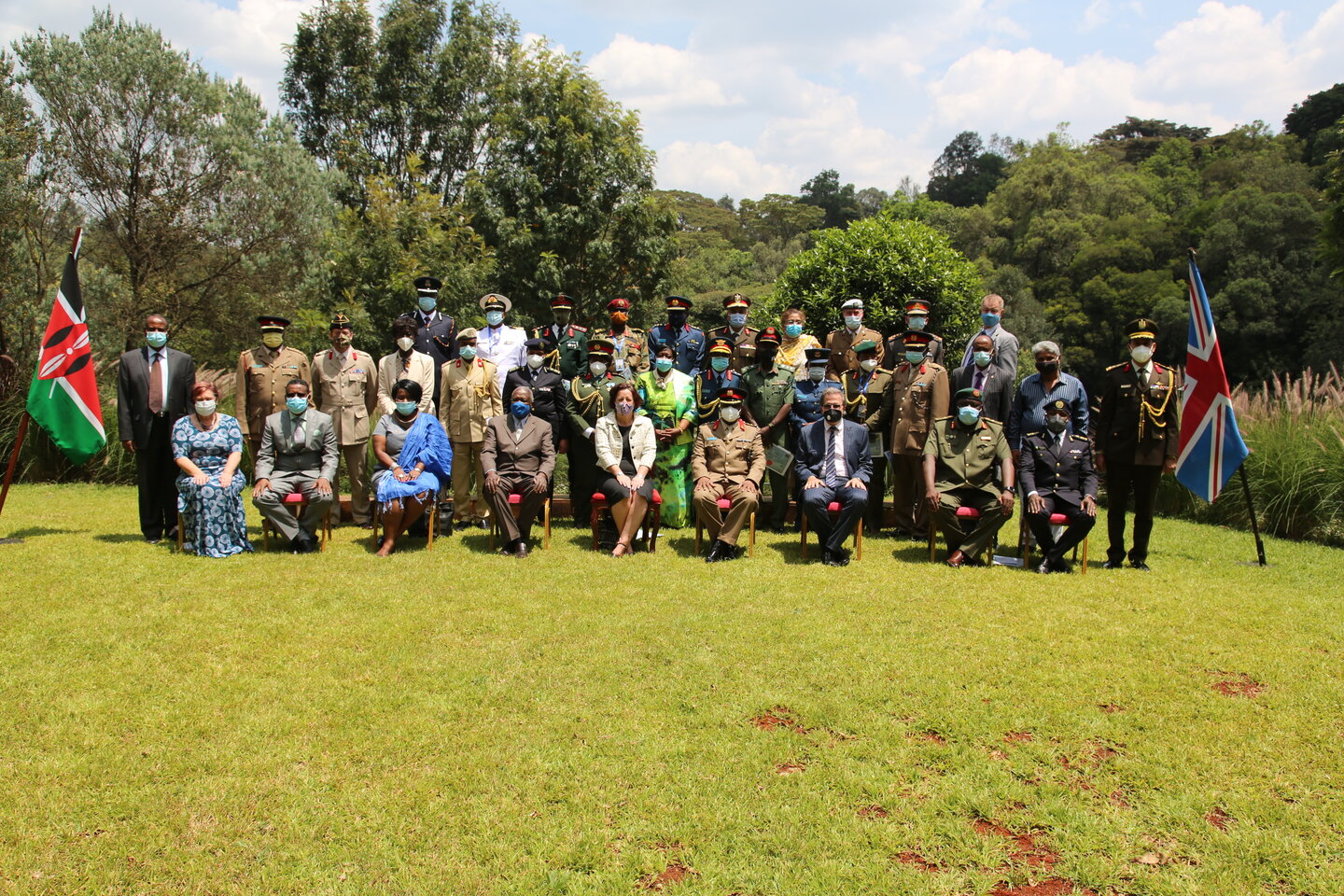 The British Deputy High Commissioner to Kenya Ms. Josephine Gauld presided over the closing ceremony of the Regional Mission Leaders (RSML) course at IPSTC, Karen on Friday, 19th March 2021.
The RSML course draws participants serving in senior leadership positions in multidimensional and integrated Peace Support Operations. This includes individuals at the top and middle management levels of the ranks of Brigadier/ Colonels for military, Commissioner of Police/ Assistant Commissioner of Police and their civilian equivalents from various institutions. This year's course hosted participants from Uganda, Egypt, Malawi, Kenya, EASF, Gambia, South Sudan, Nepal, UK, Rwanda, Nigeria, Pakistan, Zambia, UNDP and UNITAR. Worth noting, the 2021 RSML course saw the participation of six female participants, the highest number of female participants compared to previous RSML courses.
The Director of Studies, Lt Gen (Rtd) Daniel Opande expressed his honor to have worked with the dedicated cohort. He further thanked the School for continued partnership in ensuring that mission leaders are well equipped with the necessary knowledge to ensure the overall success of missions. Most importantly, Lt Gen (Rtd) Opande complimented the course mentors and IPSTC staff who worked tirelessly in ensuring an excellent delivery of the course.
The course representative, Brigadier General Robary Ismael gave a vote of thanks on behalf of all the course participants. In his speech, he expressed gratitude to the course sponsor and IPSTC for supporting their respective individual governments through education and training. He noted that the knowledge gained throughout the 2 weeks course would be beneficial in their future undertakings as mission leaders.
The RSML course is funded by the Government of United Kingdom through British Peace Support Training- Africa (BPST-A) in partnership with IPSTC. In his remarks, the Commandant BPST-A, Colonel Minton recognized Africa as a key partner in global peace and security. As such, the UK government was keen to ensure utmost support to its African Allies in delivering support to people in peace support operations.
The Chief guest was finally ushered to the podium by the Director IPSTC, Brigadier Charles Mwazighe to give her remarks. Ms. Josephine Gauld applauded the participants for their dedication during the entire course despite the challenges that came with adhering the Covid-19 guidelines. She finally wished the participants luck in their future endeavors.
Also in attendance were Director Eastern Africa Standby Force (EASF) Brigadier General (Rtd) Getachew Fayisa, UNDP Deputy Resident Representative Ms. Mandisa Mashologu and several Defence Attachés.