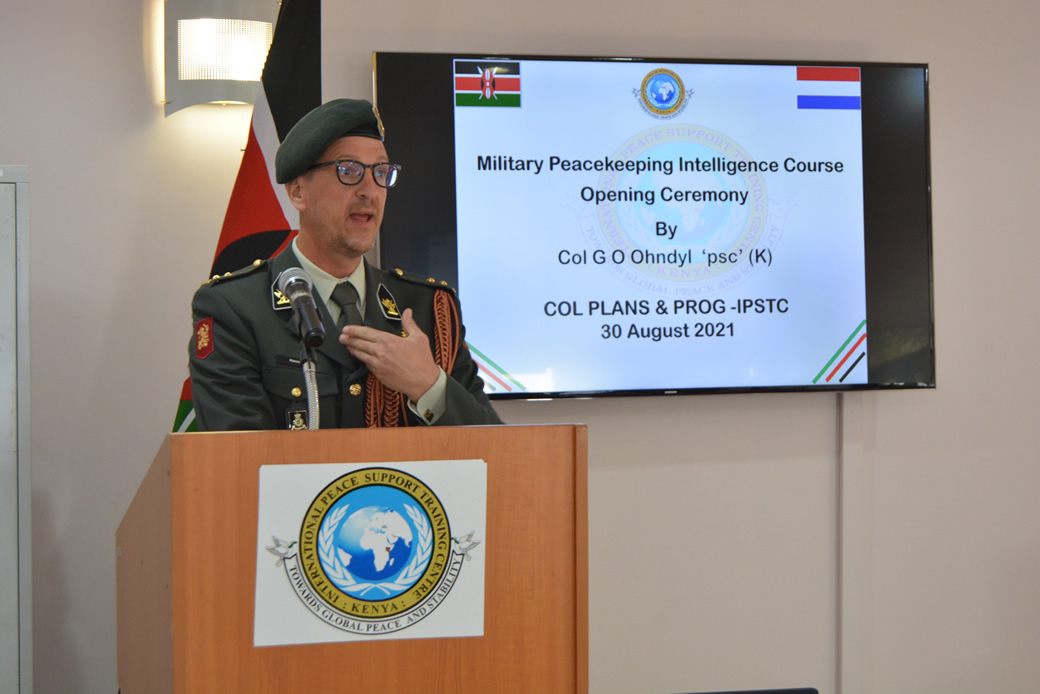 The Kingdom of the Netherlands Defence Attaché to the Republic of Kenya, Lieutenant Colonel Nils Rienks, was guest of honour for the opening of the inaugural United Nations Military Peacekeeping-Intelligence (MPKI) Training of Trainers (ToT) Course.
The course was formally opened by Colonel G G Ohndyl, Colonel Plans and Programmes, on behalf of Director IPSTC. The course is sponsored by the Kingdom of the Netherlands who also sent two officers to Nairobi in order to facilitate the course.
The MPKI Course is a UN accredited course which prepares military personnel to work in UN intelligence (U2) appointments on Peace Support Operations (PSOs). It is based on the UN Military Peacekeeping-Intelligence Handbook officially released by the UN Under-Secretary-General for Peace Operations on 22 April 2019. The course covers UN Military Peacekeeping-Intelligence structures, roles and responsibilities, the intelligence cycle, Information Acquisition Plans, Request for Information (RFI) Management, human terrain analysis and the intelligence estimate.
IPSTC is honoured to deliver this MPKI course in partnership with the Kingdom of the Netherlands. There will be 8 courses run over the next 4 years training personnel from throughout Africa and the world to fulfil PSO intelligence appointments, as well as train their own personnel in this important capability.