Organogram
(To view or print personnel profile information, click on the appropriate potrait. A popup window will appear with the relevant information.)
---
IPSTC Director
Brig J C Sitienei
IPSTC Director
Brig Joyce C Sitienei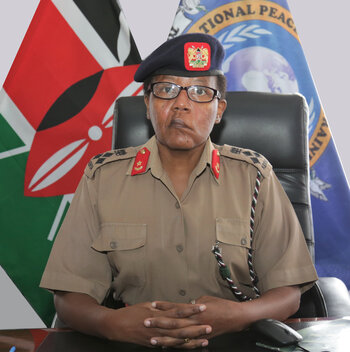 Brigadier Joyce Sitienei was appointed Director of the International Peace Support Training Centre (IPSTC) on 23 July 2021. She is a Kenya Defence Forces education officer by background and holds a bachelor's degree in education from Kenyatta University and a post graduate diploma in Peace and Conflict Studies from the Africa Nazarene University. She is currently pursuing a master's degree in Diplomacy and International Studies at the University of Nairobi. In May 2021, Brigadier Sitienei graduated from the National Defence College, Kenya.
Brigadier Sitienei has held several appointments since joining military service, including Unit Education Officer in the Women Service Corps and the 15 Kenya Rifles, instructor and Head of Distance Learning at the Defence Forces School of Higher Education, SO2 Lessons Learnt IPSTC, Head of Curriculum Design IPSTC, Head of Applied Research IPSTC and Colonel Plans and Programmes IPSTC. She has extensive training experience in instructional methodology and adult education techniques. She also has a wide knowledge of curriculum design and its practical application.
In 2001, Brigadier Sitienei served in Rwanda as part of the Kenya Military Assistance Training Team (KMATT) and in 2002 – 2003, seconded to the UN as a Military Observer in the Democratic Republic of the Congo. During this period, she developed a particular interest in gender issues and went on to participate in gender training all over Africa on behalf of IPSTC and the Pearson Peacekeeping Centre, Canada.
Brigadier Sitienei has actively participated in gender mainstreaming processes at the Ministry of Defence / KDF and at IPSTC, including practical experience of undertaking gender needs assessments and gender policy formulation. She continues to facilitate training workshops and courses imparting practical gender mainstreaming skills and knowledge in support of the institutionalisation of gender at IPSTC and the Kenya Defence Forces.
Brigadier Sitienei's decorations include the Moran of the Order of the Burning Spear (MBS) as well as United Nations and other constitutional medals earned during her operational service.
Col. Plans & Prog.
Col G Ohndyl
Col G Ohndyl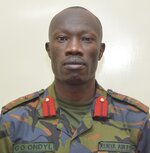 Colonel Godfred Ohndyl, is the Colonel Plans and Programmes, IPSTC HQs wef 20 August, 2020. He was enlisted into the Kenya Defence Forces as Air Cadet Officer on 16th August 1994 and commissioned on 30th November 1995 after successful completion of Cadets Training Course at the Kenya Military Academy (KMA) formerly Armed Forces Training College (AFTC) in Nakuru. He joined the Kenya Air Force (KAF) - Moi Air Base, Eastleigh where he grew up and trained as a young officer in Administration and Logistics Management.
The Kenya Air Force officer has varied experience in command, staff and instructional duties. Col Ohndyl has held various appointments in the Kenya Air Force, Kenya Defence Forces Headquarters and Training Colleges. Some of the key notable appointments include; Senior Directing Staff Air; Joint Warfare Centre, Senior Procurement Officer; Kenya Air Force Headquarters, Senior Finance Officer; Kenya Air Force Headquarters, Commanding Officer; Central Supply Depot Moi Air Base, Officer Commanding Administration and Logistics, Inventory Manager, Audit, Risk and Assurance Officer; Defence Headquarters among many others.
Military professional courses undertaken includes; Senior Command Course (JWC), Nakuru, Grade Two Command and Staff Course (Psc-K) and Grade 3 Staff Course Defence Staff College, Karen.
His civilian professional qualifications are; Masters of Science in Security Studies (Cranfield Defence University-UK) Masters of Science in Procurement (JKUAT-Kenya), Post Graduate Diploma in Strategic Studies (UoN-Kenya), Diploma in Management (KIM- Kenya), Bachelor of Commerce (Finance) (UoN). Member of the Kenya Institute of Supplies Management (KISM) and Associate Member, Kenya Institute of Internal Auditors of Kenya.
His Peace Support Operations (PSO) experience include, African Union Mission in Sudan (AMIS-Dafur) as Air Operations Officer and served as Chief Training Officer at the Eastern Africa Standby Force (EASF), A Regional Standby Force under the African Peace and Security Architecture (APSA).
His decorations include, African Union Medal, and other Constitutional medals given in the Kenya Defence Service.
Colonel Ohndyl is married and blessed with three children.
Chief of Staff
Lt Col Jonty Ambrose
Chief of Staff
Lt Col Jonty Ambrose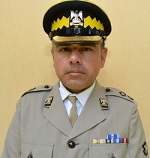 Lieutenant Colonel Jonty Ambrose attended the Royal Military Academy Sandhurst in 1997 and commissioned into the Royal Scots Dragoon Guards, Scotland's senior regiment. He spent his early career on Challenger 2 Main Battle Tanks as a Troop Leader, Squadron second-in-command and Regimental Gunnery Officer based in Fallingbostel, Germany. In 1999 and 2001 he completed operational tours of Kosovo, the latter working alongside UN and Kosovo police in Podujevo.
In 2003 he deployed with 7 Armoured Brigade on Operation TELIC in Iraq working as SO3 Intelligence Surveillance Target Acquisition and Reconnaissance (ISTAR), double-hatting as SO3 Targets. He returned to the UK as Plans Officer for 52 Infantry Brigade headquartered in Edinburgh Castle. Following staff training and an in-service Master's degree in Information Management and Technology, he was appointed the UK Head of Delegation to the Multilateral Interoperability Programme (MIP), which develops data interoperability standards designed to support multilateral, combined and joint operations. He returned to regimental duty as a Squadron Leader in 2009 and was subsequently selected for the Higher Defence Studies Programme completing an MPhil in International Relations at St John's College Cambridge. After a further tour of Whitehall overseeing MOD Future Information and Communications Technology (ICT) Systems, he deployed on Operation HERRICK in Afghanistan running the then Afghan National Army (ANA) Mobile Strike Force (MSF) Programme. Following return from Afghanistan, he completed two staff appointments in Joint Forces Command, which involved working with several British Defence Sections in Africa. Lieutenant Colonel Ambrose assumed his current COS IPSTC appointment in January 2020.
Lieutenant Colonel Ambrose played squash for the Royal Armoured Corps and also enjoys playing social tennis. He is an occasional and erratic cricketer and follows the fortunes of England and Scotland in international rugby. Married to Joy, they have two young children both of whom attend school in Nairobi.
Finance & Admin.
Mr K T Maina
Finance & Administration
Mr K T Maina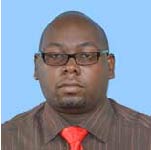 Mr. Kevin Thukia Maina is the current Head of Finance and Administration department at the International Peace Support Training Centre as from June 2014. He is a holder of BED Economics and Business Studies From Kenyatta University, Chartered Certified Accountant and Affiliate member of the ACCA (Association of Chartered Certified Accountants)- (UK). He also holds a Post Graduate Degree from the University of Cape Town (UCT), In Strategic Cost Management.
He possesses a wealth of experience in Strategy development and Financial Management. Having been the Chief Accountant at- Mall to Mall Group Limited, The finance Manager Interstate C Ltd, Coolxtreme Ltd - Daikin Kenya, Having practiced auditing and accounting with NBJ -Accounting (which consulted for various Nongovernmental organizations) etc. He is married and has been blessed with two children.
Mrs Leah Miano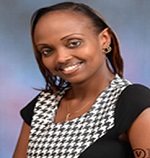 Mrs.Leah Wanjiku Miano joined International Peace Support Training Center in October 2014 as the Head of Information and Communication Technology. She is a vastly experienced and innovative ICT professional with a broad band of eleven years' experience in cross-functional IT project management, strategic management, service delivery and business continuity. Some of the key skills and competencies include: providing leadership and guidance on IT related matters, systems, server and security administration, enforcing ICT guidelines and policies, personnel management, in addition to coordinating all IT processes.
She has successfully handled the following roles: development and implementation of strategy and policies, overseeing the implementation of infrastructure related projects, ensuring latest technology trends are mapped out as per business user processes, overseeing continuous service level improvement initiatives associated with core processes and facilitating the management of budgets as per requirements.
Mrs.Miano is a holder of a Bachelor of Science degree in Software Engineering and an MBA in Strategic Management and Finance. She is also a member of the Computer Society of Kenya. She is married to Dr. Wambugu and blessed with one child.
Comdt PCSS
Col G Marrow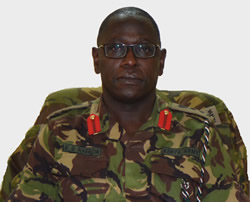 Peace and Conflict Studies School
Colonel Gelffin Marrow joined the Kenya Defence Forces (KDF) in 1988. On July 23, 2021, he was appointed Commandant Peace and Conflict Studies School (PCSS). He is an Infantry Officer with a Master's degree in International Security and Strategy from King's College London. Col Marrow graduated from the Royal College of Defence Studies in the United Kingdom in July 2020.
Colonel Marrow has served as a Platoon Commander 9 Kenya Riffles (KR), Instructor Platoon Commander Kenya Military Academy (KMA), Staff Officer 2 (SO2) Training KMA, Division Commander Recruits Training School'(RTS), Officer Commanding (OC) Company 9 KR, SO2 Ceremonial Defence Headquarter (DHQ), Battalion Second in Command (Bn 21C) 9 KR, Commanding Officer (CO) 19 KR, CO Camp Admin Wing Defence Staff College, Deputy Brigade (Bde) Commander 8 Bde and Chief of Operations DHQ.
Colonel Marrow has also served in a variety of PSO missions, including Platoon Commander in UNPROFOR Yugoslavia in 1992, OC Force HQ Coy in ONUB Burundi in 2005, BN 2IC Kenyan Battalion UNMISS South Sudan in 2011, and Military Observer MINUSMA in Mali in 2015. Col Marrow also served as a CO in AMISOM Somalia in 2014.
Colonel Marrow has several UN & Constitutional medals earned in the course of his service.
Head PSRD
Col I K Guleid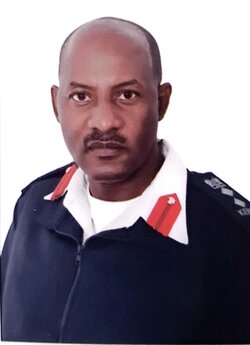 Col I K Guleid, is the Head of Peace and Security Research Department, IPSTC Headquarters with effect from August 2021. A career Kenya Airforce Equipment Officer having joined the Kenya Defence Forces in 1991 where after his Cadet training and subsequent Commissioning at the then Armed Forces College(AFTC) now Kenya Military Academy(KMA) he was posted to Moi Air Base (MAB) - Eastleigh for his ab-initio training as a young Officer in areas of administration and logistics management.
The officer has varied experience and expertise in Command, Staff and Instructional duties. As an Airforce Equipment officer, he has served as an Inventory Manager of the various Aircraft systems and other aero- ground platforms. He has been a Quarter Master Technical (QMT), Squadron Commander, Senior Provisioning Officer and Commanding Officer in a training institution. He also served as the Corps Commander, Military Police Corps.
Col I K Guleid's Staff appointments include: Staff Officer -Bills at the Logistics Command –KAF HQs, Staff Officer at the Defence Headquarters in Audit, Inspectorate and Provost Branches. The Officer has also held Instructional duties as the Senior Directing Staff (SDS) at the Joint Warfare Centre (JWC).
In the Course of his career, the Officer has undergone both local and overseas professional courses among them: National Defence Course (NDC), Egypt, Command and Staff Course (DSC)-Karen, Grade three Staff and Command Courses, Supply Officers' Course, Criminal investigation Course, Project Development and Management, Senior Leadership and Management Courses at the Kenya School of Government (KSoG), Nairobi. Military Observers Course- IPSTC, certified as a National Instructor in International Humanitarian Law as offered by the International Committee of the Red Cross (ICRC) amongst other career courses.
The officer holds a Graduate Diploma from the Chartered Institute of Purchasing and Supplies – United Kingdom (UK), Diploma in Supplies management, Diploma in Strategic Studies (UON), a Bachelor of Science and post graduate qualifications in Supplies Management and Administration, Criminology and Forensic studies. He is currently pursuing Peace and Conflict studies. He is a member of such professional bodies such as ASIS(USA).He is also a Fellow of the Nasser Higher Military Academy.
Col I K Guleid has participated in Peace keeping operations in different capacities and has wide experience that includes serving as the Staff officer in charge of personnel and logistics (G1/G4) and as the Joint Logistics (JLOG) Officer at Sector Headquarters in MONUC (Democratic Republic of Congo). He also served as the Senior Staff Officer responsible for the UN Mission Joint Operations Centre (JOC) for UNAMID- DARFUR, Sudan.
His decorations include the UN Medals and other constitutional medals given in the Kenya Defence Service.
Comdt HPSS
Col P Nadio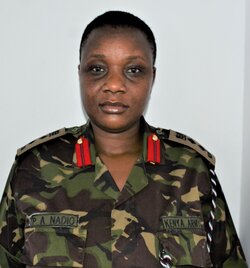 Humanitarian Peace Support School
I am Col Philis Adukan Nadio currently the Commandant of the Humanitarian Peace Support School (HPSS) having taken over on 23 July 2021. I was born on 25 April 1983 in Turkana County. I attended Nakwamekwi Primary School and later Turkana Girls High school. I was enlisted into the Kenya Defence Forces as a Cadet in the year 2001. On completion of Cadet Course in Feb 2003, I was posted to Kenya Army Corps of Transport as a platoon commander and later to the Military Police Corps in 2004 where I worked in several capacities in both Command, admin and instructional responsibilities. My last appointment was Commandant of the School of Military Police.
I have attended various command and staff courses pertaining to my rank as a Kenya Army officer and several investigation courses during my tenure in Military Police. I hold a degree in Military Science from Egerton University, a post graduate diploma in Strategic studies from the University of Nairobi and currently pursuing a master's degree in Governance, Peace and Security at the African Nazarene university.
I have served in the United Nations Mission in the Burundi (ONUB) in the year 2005/6 as an investigator, United Nations African Mission in Darfur in the year 2010/11 as second in Command of Force Military Police and United Nations Mission in South Sudan (UNMISS) in the year 20015/16 as an Intelligence analyst as well as sector gender officer where I pioneered the formation of UN female peacekeepers network that strived to empower women and girls in Juba, South Sudan. I am a wife and a mother of two.