𝐓𝐑𝐈𝐀𝐍𝐆𝐔𝐋𝐀𝐑 𝐏𝐀𝐑𝐓𝐍𝐄𝐑𝐒𝐇𝐈𝐏 𝐏𝐑𝐎𝐉𝐄𝐂𝐓
The Triangular Partnership Project was one of the outcomes of the September 2014 summit on UN peacekeeping where Japanese Prime Minister Shinzo Abe committed to support the Rapid Deployment of Engineering Capabilities to Peacekeeping missions in Africa. In 2016, the flagship program had its first trainees drawn from the Kenya Defence Forces.
The training encompasses Basic Machine Operation course, Intermediate Machine Operation course, Training of Trainers and Engineer Project Management course. Eight years down the line, the project has seen over 400 trainees qualify at the Humanitarian Peace Support School in Embakasi.
Trainees and their instructor during a demonstration
The project saw a series of events starting with an inspection by the head of the Japanese delegation and UNDP resident representative on Friday, 11 March.
To mark the end of the project, the closing ceremony was graced by the Charge d'affaires embassy of Japan to Kenya Mr. Kitagawa Yasuhisa, Brigadier Saidi, Brigadier J C Sitienei, and Commander Takao Katsumata.
During the closing ceremony, Brigadier Saidi Commander Engineers Brigade reiterated the importance of the course in building capacity for the Kenya Defence Forces. "The structural training that the soldiers undergo at HPSS makes them assets for their own brigades," he stated.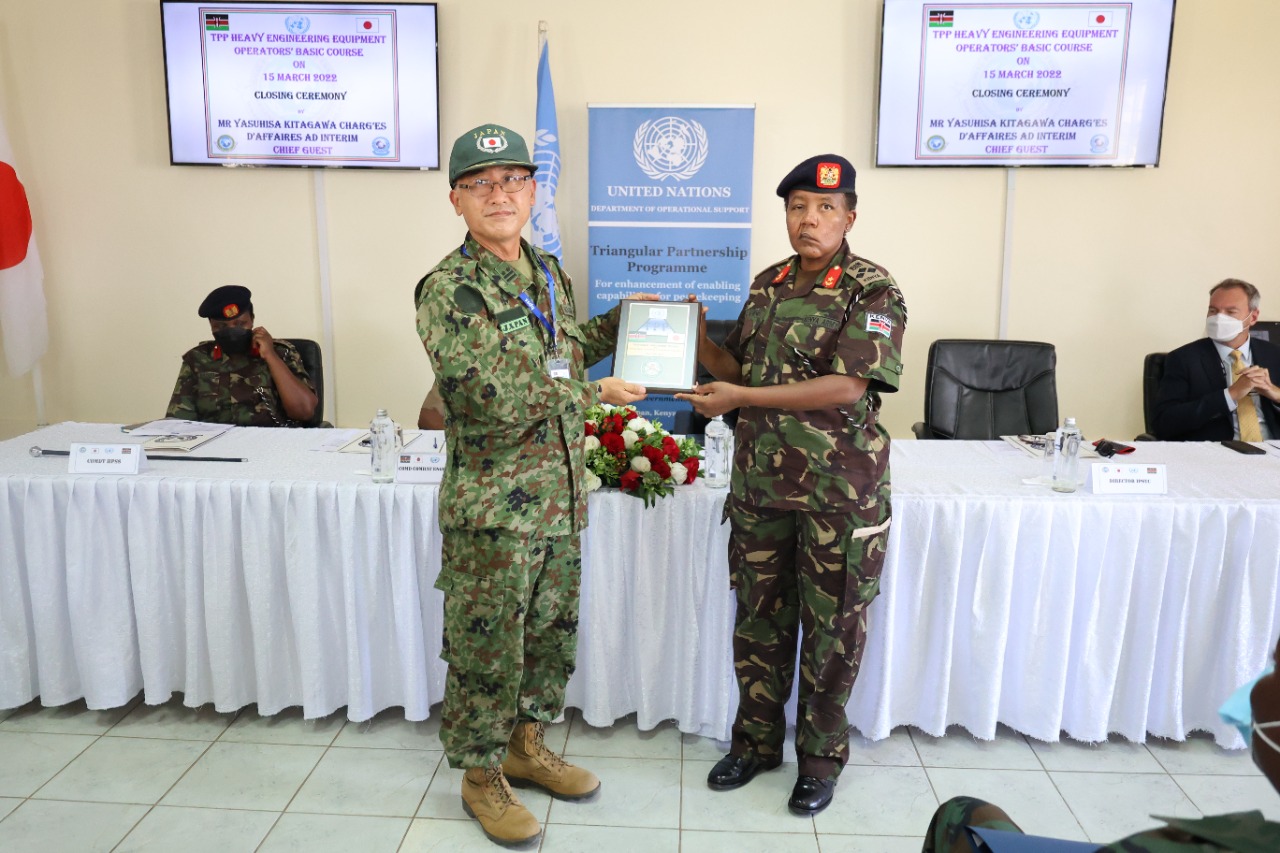 Lead Instructor Lt. Col Nagami gifting Brigadier J C Sitienei
"The knowledge and skills acquired by the trainees will be very beneficial towards achieving world peace which is one of the end state of this project," mentioned Brigadier J C Sitienei.
The Basic Machine Operation Course had 35 participants from Kenya, Ghana, and Uganda. Six female trainees were selected to continue with the next stage of training- the Intermediate Machine Operation Course.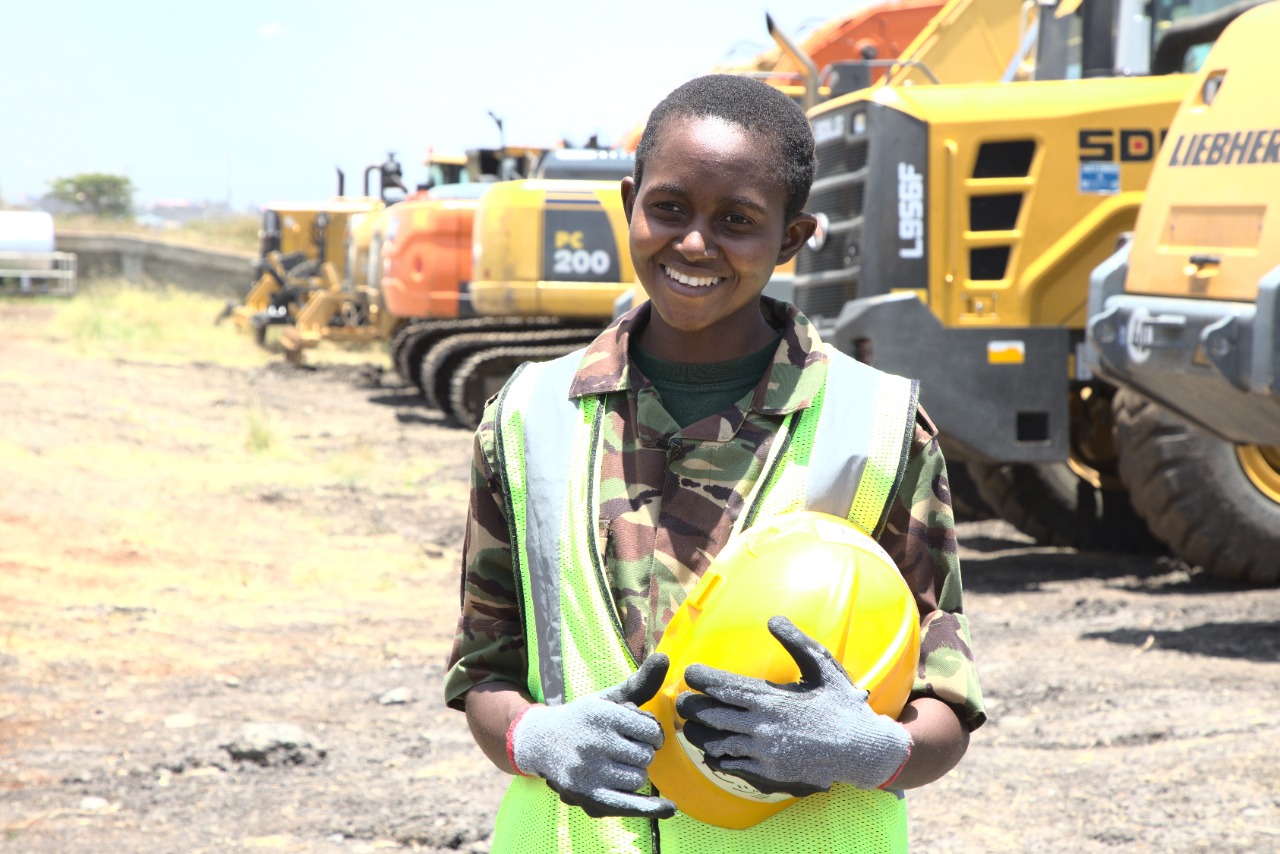 For two months now, I have undertaken the basic machine operation course. As a result, I have been selected to continue to the next stage of training- intermediate machine operation course. The skills I have acquired build my confidence in discharging duties assigned to me in the Kenya Defence Forces," Senior Sapper Maurine Njoki Njeru.
A trainee showing their certificate during the closing ceremony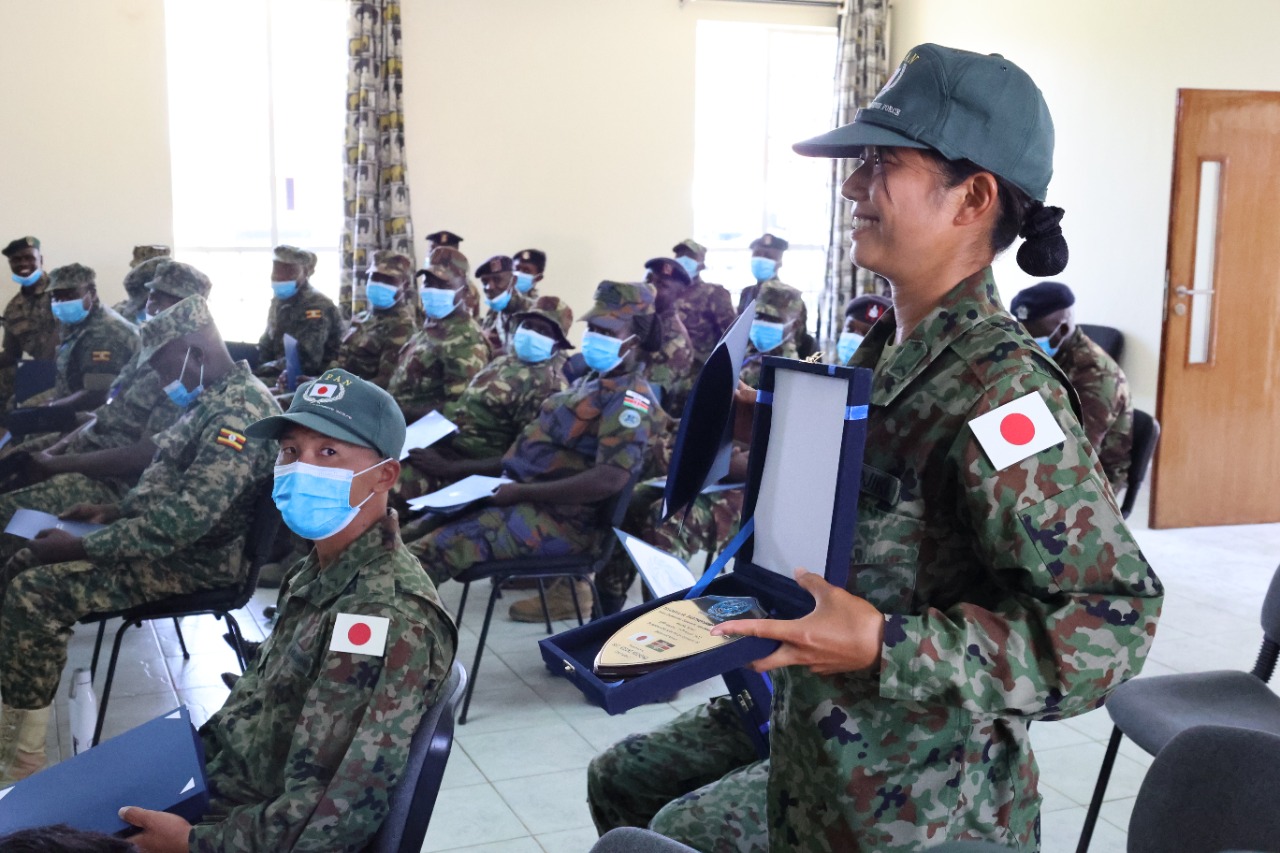 A Japanese instructor showing their award during the closing ceremony