The Danish Ambassador Ole Thonke visits IPSTC
The Danish Ambassador Ole Thonke visits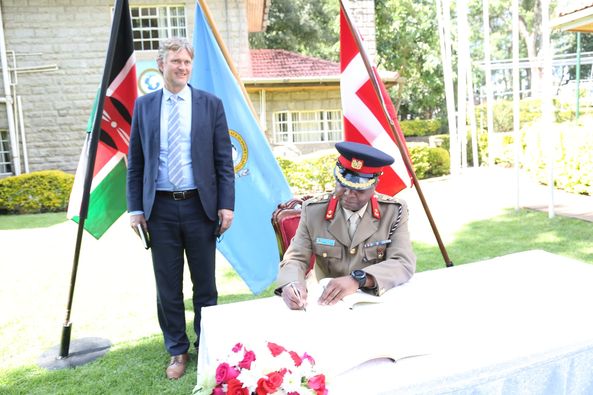 A brief engagement of the the New Danish Ambassador to Kenya with The Director International Peace Support Training Centre (IPSTC) Brig Charles L. Mwazighe
Today we had a visit from the New Danish Ambassador to Kenya accompanied by his Defence attach Colonel Jørn E. Rasmussen. As part of the visit, the Ambassador Ole Thonke spoke to the Intergrated Mission Planning Course which is sponsored by Denmark.
Denmark is sponsoring three courses at HPSS Embakasi which began today.
The newly signed agreement between the Danish ambassador and the Director IPSTC.
A group photo of The Danish Ambassador and The Director.
The Danish Ambassador and The Director International Peace Support Training Centre (IPSTC) Brig Charles L. Mwazighe. signed two agreements which are part of the Danish Peace and Stabilization program.
The Ambassador was given a brief tour of the IPSTC campus facilities.