ORGANISATION STRUCTURE
(To view or print personnel profile information, click on the appropriate potrait. A popup window will appear with the relevant information.)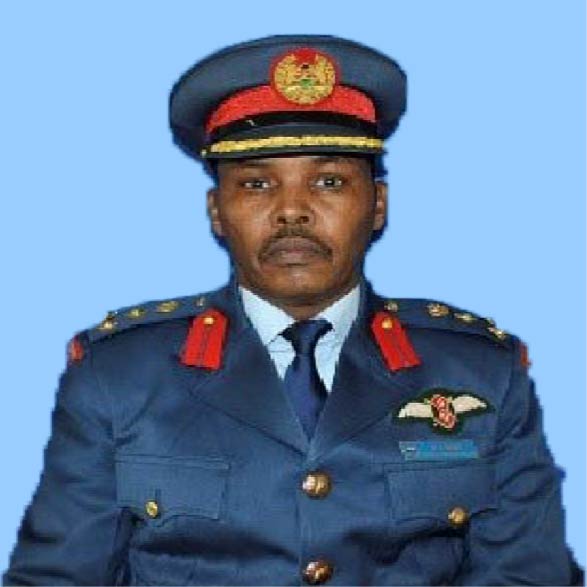 IPSTC Director
Brig R A Elmi

IPSTC DIRECTOR
Brig Rashid A Elmi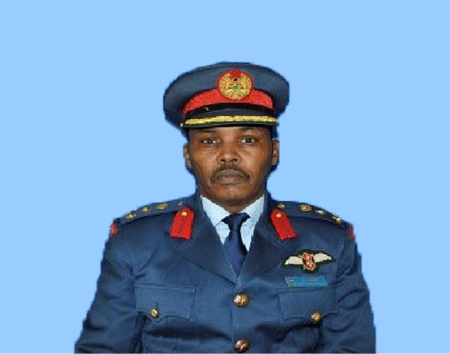 Brigadier Rashid Abdi Elmi was appointed Director of the International Peace Support Training Centre (IPSTC) in May 2019, having previously held the appointment of Senior Directing Staff -Air, National Defense College Kenya, since July 2017. Brigadier Rashid Elmi is a career Military Officer from the Kenya Air Force.
Brigadier Rashid Elmi was born on 20 Aug 1964 in Wajir in North Eastern Kenya. He attended Khorof-Harar Primary School before joining Wajir High School. He joined the Kenya Air Force in April 1984 and was commissioned in May 1985.
He started his flying career at the Flying Training School (FTS) Moi Air Base, Eastleigh and finishing his Ab-initio flying training in 1985. He proceeded with Multi-engine training and qualified in 1987. He holds a Diploma in Military Art and Science from the Air University-Al, USA , a Diploma in International Studies from the University of Nairobi, a Bachelor of Arts (BA) from the Catholic University of Eastern Africa and a Master of Arts (MA) also from the Catholic University of Eastern Africa. Additionally Brigadier Rashid Elmi holds a Master of Business Administration (MBA) Aviation Management from Moi University and is currently pursuing a PhD in security Management at Kenyatta University.
Brigadier Rashid Elmi has done many professional military courses. He is a graduate of the National defense College (NDC), Kenya, Air Command and Staff College USA, Basic and advanced Intelligence Courses at the School of military intelligence-Kenya and the Intelligence University in USA.
Before his appointments as Director IPSTC, he was Senior Directing Staff (Air) at the Kenya National Defence College. Previously he has held various other appointments including Colonel Intelligence at Defense Headquarters, Colonel Operations Air Force, Instructor at the School of Military Intelligence, Directing Staff (Air) at the Joint Warfare Center and Squadron Pilot. He has served in two United Nations Missions, in Iraq/Kuwait (UNIKOM) as a Military Observer in 1995 and in Kosovo (UNMIK) as a Military Liaison Officer in 2007.
His decorations include Member of the Burning Spear (MBS), 25th Independence Anniversary medal, 10th and 20th Nyayo anniversary medals and the UNIKOM and UNMIK medals given in the service of United Nations Peace Keeping.
Brigadier Emi is married to Saadia Abdullahi and they have been blessed with two daughters and a son. His hobbies include travelling, reading and making new friends globally.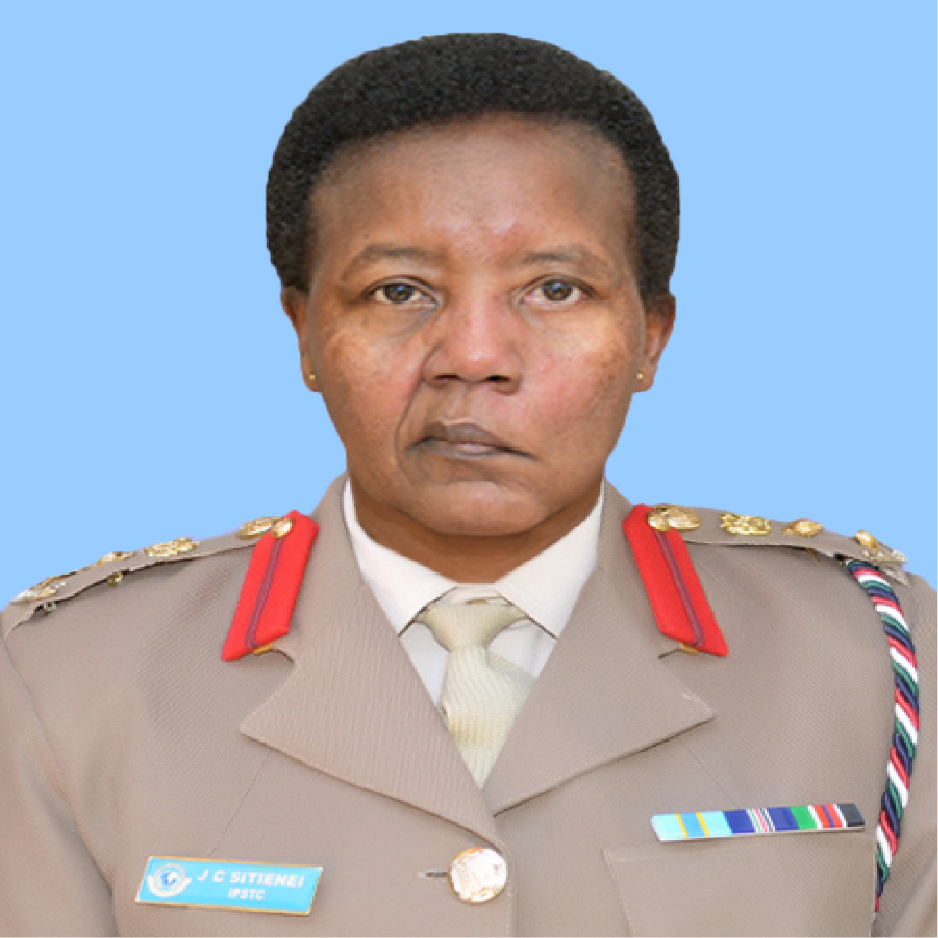 Plans &
Programmes
Col J Sitienei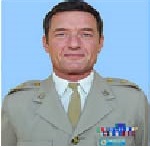 Chief of Staff
Lt Col T Mallinson

COL PLANS & PROGRAMMES
Colonel Joyce Sitienei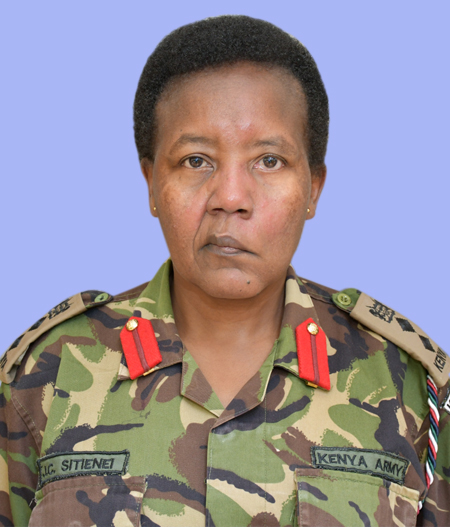 Colonel Joyce Sitienei is currently the Col Plans and programmes at the International Peace Support Training Centre Headquarters. She is an education officer in the Kenya Defense Forces. Col Joyce holds a bachelor's degree in education from Kenyatta University and Post graduate Diploma in peace and conflict studies from the Africa Nazarene University.
She has held a number of appointments since joining military service, key being Unit education officer at the Women's Service Corps and the 15 Kenya Rifles, Instructor and Head of Distance Learning at the Defense Forces School of Higher education; Head of Curriculum design and Head of Applied Research at IPSTC.
She has worked in Rwanda as part of the Kenya Military Assistance Training Team and in the Democratic Republic of the Congo as a Military Observer. During this time she developed a great interest in gender issues and has gone on to participate in gender training all over Africa on behalf of the IPSTC and the Pearson Peacekeeping Centre - Canada.

CHIEF OF STAFF
Lt Col T Mallinson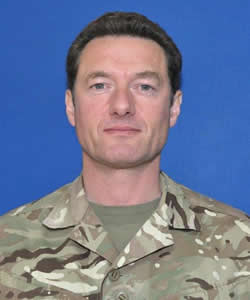 Lt Col Mallinson was commissioned in 1992 from the Royal Military Academy, Sandhurst, in to the King's Royal Hussars (based in Munster, Germany and equipped with the Challenger 1 main battle tank). He served as an armoured troop leader, squadron second-in-command, regimental intelligence officer, regimental operations officer and divisional liaison officer. Operational deployments include the tour of Belfast, Northern Ireland, in 1994 (with commendation) and then three UN/NATO peacekeeping tours 1995-1999 covering Croatia, Bosnia-Herzegovina, Macedonia and Kosovo; training deployments took him to Cyprus, Canada, Poland and Switzerland.
Returning to UK for his first external staff appointment in 1999, responsible for implementing sub-unit overseas training exercises outside of central Europe, he then attended the Royal Military College of Science, Shrivenham, to gain a diploma in Defence Technology, before serving as COS to the Field Artillery Systems Support project team. With his regiment now also returned from Germany to UK, he enjoyed his two years of squadron command which included an operational attachment to HQ 12 Mechanized Brigade as SO2 Information Strategy in Basra, Iraq.After one year as the armoured mentor at the brigade and battlegroup Combined Arms Staff Trainer, he was assigned as the Regimental Second-in-Command/Battlegroup COS to the Queen's Royal Hussars, which included deployment to Iraq to mentor the Iraqi Army in Basra and support the drawdown of British troops from Iraq (Op TELIC 13).
He then returned to Army Headquarters to assist joint and multinational training policy, attendedthe Advanced Command and Staff Course at the UK Defence Academy, Shrivenham, gaining an MA in Defence Studies, and worked on the staff of the post of HQ 12 Mech Bde as SO2 Management Plans/COS Rearprior to and during their deployment to Afghanistan in 2012 (Op HERRICK 13). In 2014 he deployed to Afghanistan as the SO1 Deputy Combat Operations Officer to the United States Marine Corps command of Helmand province, and in 2015 was assigned to the UK MoD's think-tank, theDevelopment, Concepts and Doctrine Centre (DCDC),as SO1 Land Concepts.
Lt Col Mallinson enjoys many sports, including cricket, tennis, golf, rugby, skiing and shooting, and has been Chairman of the British Army Rackets and Real Tennis Association. Other interests include gastronomy, oenology and classic cars. Married to Vanessa, they have two teenage daughters, currently being schooled in UK. close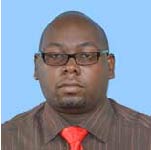 Finance
& Adminstration
Mr K T Maina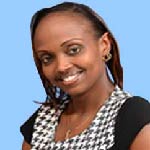 Information
& Communication
Technology
Mrs L Miano

HEAD OF FINANCE AND ADMINISTRATION
Mr Kevin Maina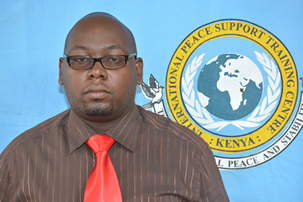 Mr. Kevin Thukia Maina is the current Head of Finance and Administration department at the International Peace Support Training Centre as from June 2014. He is a holder of BED Economics and Business Studies From Kenyatta University, Chartered Certified Accountant and Affiliate member of the ACCA (Association of Chartered Certified Accountants)- (UK). He also holds a Post Graduate Degree from the University of Cape Town (UCT), In Strategic Cost Management.
He possesses a wealth of experience in Strategy development and Financial Management. Having been the Chief Accountant at- Mall to Mall Group Limited, The finance Manager Interstate C Ltd, Coolxtreme Ltd - Daikin Kenya, Having practiced auditing and accounting with NBJ -Accounting (which consulted for various Nongovernmental organizations) etc. He is married and has been blessed with two children.

HEAD OF ICT
Mrs Leah Miano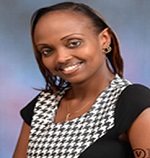 Mrs.Leah Wanjiku Miano joined International Peace Support Training Center in October 2014 as the Head of Information and Communication Technology. She is a vastly experienced and innovative ICT professional with a broad band of eleven years' experience in cross-functional IT project management, strategic management, service delivery and business continuity. Some of the key skills and competencies include: providing leadership and guidance on IT related matters, systems, server and security administration, enforcing ICT guidelines and policies, personnel management, in addition to coordinating all IT processes.
She has successfully handled the following roles: development and implementation of strategy and policies, overseeing the implementation of infrastructure related projects, ensuring latest technology trends are mapped out as per business user processes, overseeing continuous service level improvement initiatives associated with core processes and facilitating the management of budgets as per requirements.
Mrs.Miano is a holder of a Bachelor of Science degree in Software Engineering and an MBA in Strategic Management and Finance. She is also a member of the Computer Society of Kenya. She is married to Dr. Wambugu and blessed with one child.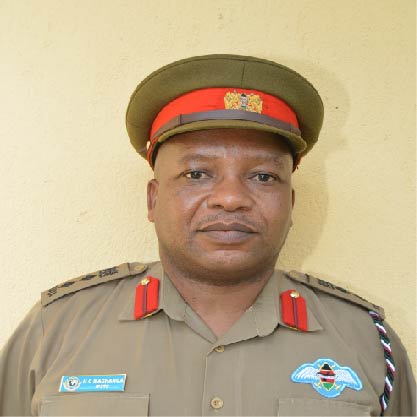 Comdt PCSS
Col H Maghanga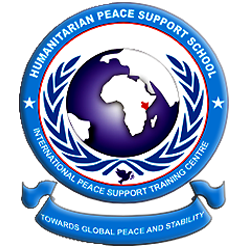 Peace and Conflict Studies School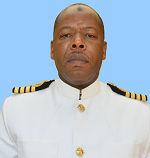 Head PSRD
Col B R Mwagonga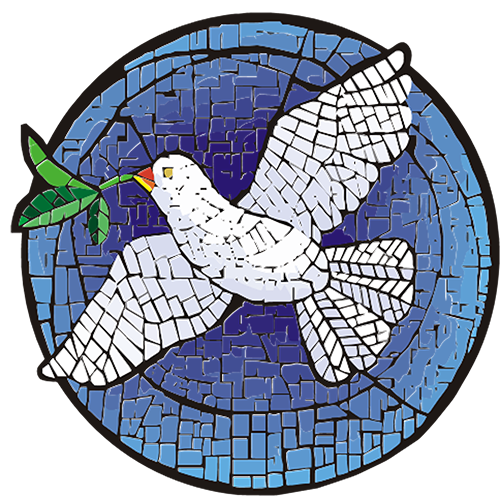 Peace and Security Research Department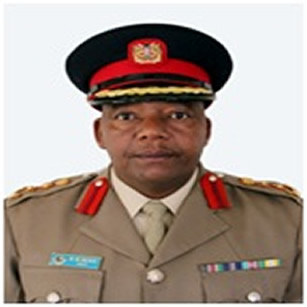 Comdt HPSS
Col B M Mzee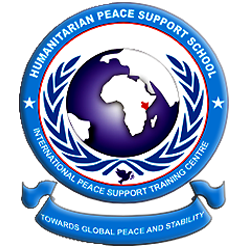 Humanitarian Peace Support School

COMMANDANT PCSS
Col Haycall Maghanga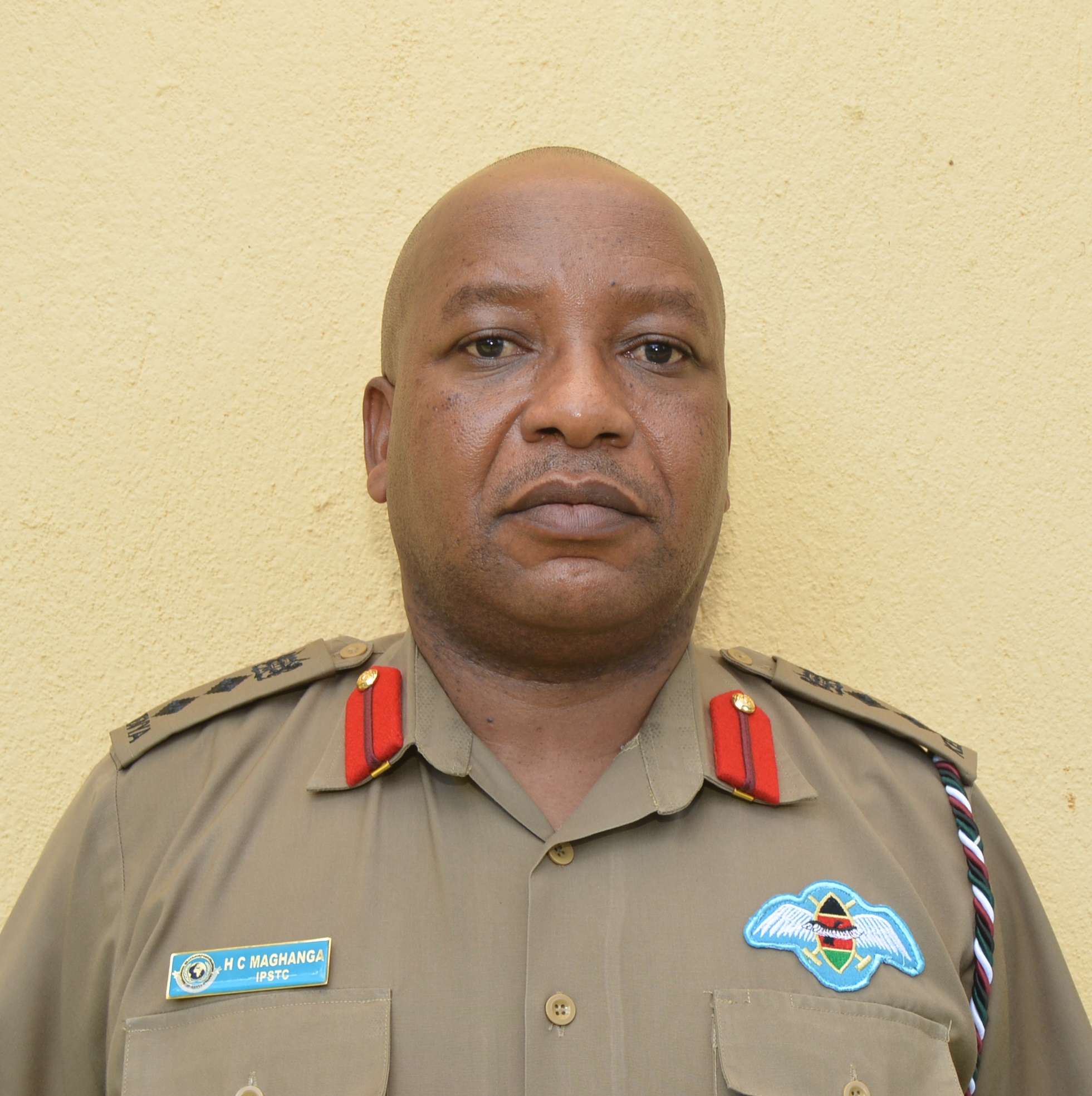 Col Haycall Maghanga is the Commandant of the Peace and Conflict Studies School (PCSS) having taken over on 8 May 2019. He joined the Kenya Defence Forces as a Cadet in the year 1988.
In his military career he has served in Command and to a greater extent in instructional duties all at Formation level. A career Army Aviator, he has worked extensively in peacetime and combat operations and is widely experienced in Army Aviation.
In his last appointment, he was the Commandant of the Joint Helicopter Training School (JHTS) where he actively participated in producing Army helicopter pilots and in Army aviation capacity building.
Col Haycall Maghanga has attended various command and staff courses pertaining to his rank during his service. He holds a Diploma in Strategic studies from the University of Nairobi.
He has served in the United Nations Mission in the Democratic Republic of Congo (MONUC) in the year 2005/6. Col Haycall Maghanga was born in 1968 in Taita Taveta County. He is married to one wife and blessed with three children.

HEAD OF PEACE & SECURITY RESEARCH DEPARTMENT
Colonel Beduni Rashid Mwagonga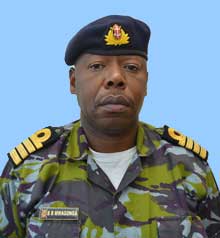 Col Beduni Rashid Mwagonga joined IPSTC on 23 July 2018 as the Head of the Peace and Security Research Department. He joined the Kenya Defence Forces in 1991 as a Naval Officer. He has held various Command, staff and training appointments. His last appointment was with the United Nations as the Planing Officer in the Force Generation Sevices (Office of Military Affairs-Department of Peace keping Operations) at the United Nations Headquaters in New York, a position he held from Jun 2014 to Dec 2017. Other appointments include Chief Instructor at the Defence Forces Technical College (DEFTEC) in Nairobi and Officer Commanding Naval Armament Depot.
Recently, in Oct 2018, he completed the Regional Senior Mission Leadership Course, at IPSTC, Karen.
Col Mwagonga has attended various courses locally and abroad including India (Electrical Engineering Specialisation Course), USA (Naval Staff Course in Newport, Rhode Island; Joint Warfighting Course, Norfolk, Virginia), United Kingdom (Ships Gyro course-). He has a Bachelors Degree in Electrical and Electronics Engineering and a Post Graduate Diploma in Strategic Studies from the University of Nairobi.
He also has a Masters Degree in Computer Based Information Systems from the University of Sunderland,UK. Col Mwagonga is also a graduate of the Grade II Staff Course in Kenya's Defence Staff College.
Col Mwagonga has performed various naval assignments in Spain and Italy. He served in United Nations Missions in Democratic Republic of Congo (MONUC) from Apr 2003 to May 2004.
He is married to Nimosi Tangawizi.

COMMANDANT HPSS
Col B Manjewa Mzee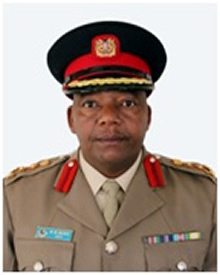 Col Benedict Manjewa Mzee, was commissioned into the Kenya Defence Forces (KDF) on 22nd May 1990 after successful completion of Cadets training at the Kenya Military Academy, Lanet.
The officer has varied experiences in command, staff and instructional duties. He is a career armour officer having served as a troop commander, squadron second in command, squadron commander, Commandant School of Armour as well as Deputy Commander Armoured Brigade. His staff appointments include Battalion Intelligence officer, Adjutant, and Brigade staff officer in charge of personnel and logistics.
He has held instructional appointments as senior instructor technical at School of Armour, senior Directing Staff at Joint Warfare Center as well as Head of Teaching Team (HOTT) at the Defence Staff College, Karen.
In the course of his career, the officer has undergone both professional and staff courses among them; Defence Staff Course, Karen, the Army Command and General Staff Course, USA, and the National Security and Strategic Studies Course at the National Defence College, New Delhi, India. He holds a Diploma in Strategic Studies (UON), BSC in Military Science from Egerton University and an MPHIL degree in Defence and Strategic studies from Madras University - India.
The officer's peacekeeping experiences include serving in the United Nations Protection Force (UNPROFOR) in the former Yugoslavia in 1994/95 and in Darfur, Sudan, under the African Union Mission in Sudan (AMIS) in 2006/07.
His decorations include Member of the Burning Spear (MBS) and Constitutional medals and the UNPROFOR and AMIS medals given in the service of United Nations and African Union Peace Keeping.
Prior to his appointment as Commandant HPSS on 13 July 2018, he served as Deputy Commander Armoured Brigade.
Col Mzee is married to Susan and they are blessed with two daughters, Patience and Allison.